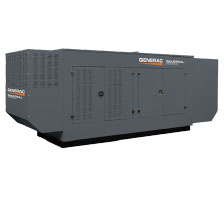 The conditions that lead to widespread power outages—severe storms, equipment failures, etc.—do not typically affect the natural gas infrastructure. This means you can enjoy long running times in your application from Generac gaseous-fueled standby generators without needing to refuel.

Generac Spark-ignited Engines Engineered Specifically for Standby Power 
Applying gaseous fuel to standby power systems takes advanced engineering expertise to ensure reliability and long life. That's why Generac builds its spark-ignited engines from the block up.

Protection from the Elements 
Generac manufactures its own generator enclosures to ensure each unit combines the highest level of durability with the latest engineering advancements in noise reduction, weather resistance and streamlined design.

Rugged Base Frames 
Generac's heavy-duty base frames ensure accurate alignment between the engine and alternator at all times. Oil and water drain points are situated for easy access. Vibration isolators contribute to smooth operation. And power cable stub-ups are positioned for easy installation.

PowerManager® Integrated Controls 
PowerManager digital controls* let you monitor and control key elements of your generator system with the touch of a button or click of a mouse. Features like constant monitoring capabilities, adjustable parameters, and built-in protective alarms help provide the highest level of reliability.

Optimized Performance 
Generac industrial alternators are machine wound, machine inserted, and machine varnished for the ultimate in consistency. Form winding and stack bracing ensures reliable performance. Rotor spin balancing eliminates vibration. And vented rotors contribute to cooler operation, longer life and enhanced efficiency.