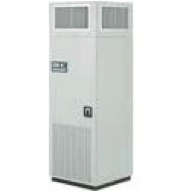 Liebert HPM units are air conditioners equipped with EC Fans, with several air delivery versions: downwards (underfloor delivery), upwards and "displacement".
Liebert HPM units are equipped with an iCOM® Control, featuring an integrated Web connection and two optional graphic displays. Liebert HPM combines different cooling technologies in order to provide the ideal solution for any customers' needs:
Direct Expansion: available with the air or water-cooled Copeland Scroll compressors.
Chilled Water: to be used with Liebert HPC.
Dual-Fluid: matches low running costs together with total reliability. It operates with chilled water, thus guaranteeing business-continuity, as a result of spare compressors quickly intervening whenever the central unit stops.
Freecooling: to reduce power consumption leveraging on low winter temperatures to cool the data center, thus avoiding the use of compressors (365 days per year).